I finally decided to cut out my fashion fabric -- and realized I didn't have enough! Five yards @ 50" wide just doesn't work with this pattern's full circle skirt.
I thought about using some other fabric, but I really wanted to use my cotton lawn print for a number of reasons. So I'm going to combine the bodice of 4919 with Butterick 4136 (which I've made before, so I know it fits):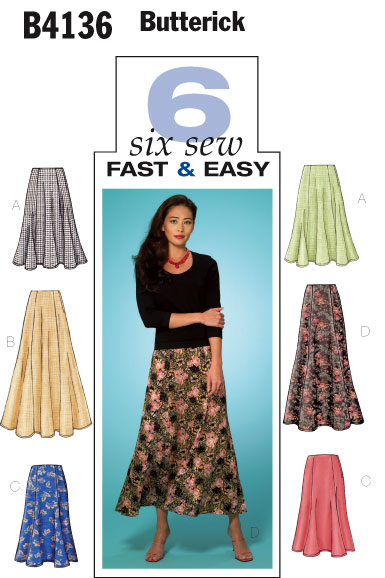 I'll put use View A (a length somewhere between A and B) and cut the back piece in two pieces with a seam allowance so it will match up with the back seam of the bodice. I do have enough fabric for this, and I think it will give the same effect, especially in this soft fabric.
I will need to use some other fabric for the facings (they are really full linings of front and back bodice) -- maybe just some black broadcloth that I have on hand. It may actually look better than using the print as facings because there will be no show-through.
So I just cut out the bodice front and back using my altered pattern. I also decided to piece the ties rather than cut them in one piece with the back, as in the pattern, because it would have really used up a lot of fabric if I hadn't, and I don't think it will be obvious in the finished dress.
I suspect that home sewers in 1952 who made this dress may have economized on fabric in the same way (especially considering that wide fabric widths were not easily available then), so I don't feel too bad about it.